News
COPRECI and IKERLAN sign a technological collaboration agreement that will enable the development of disruptive innovations in the electronics sector.
Published on 2023-02-27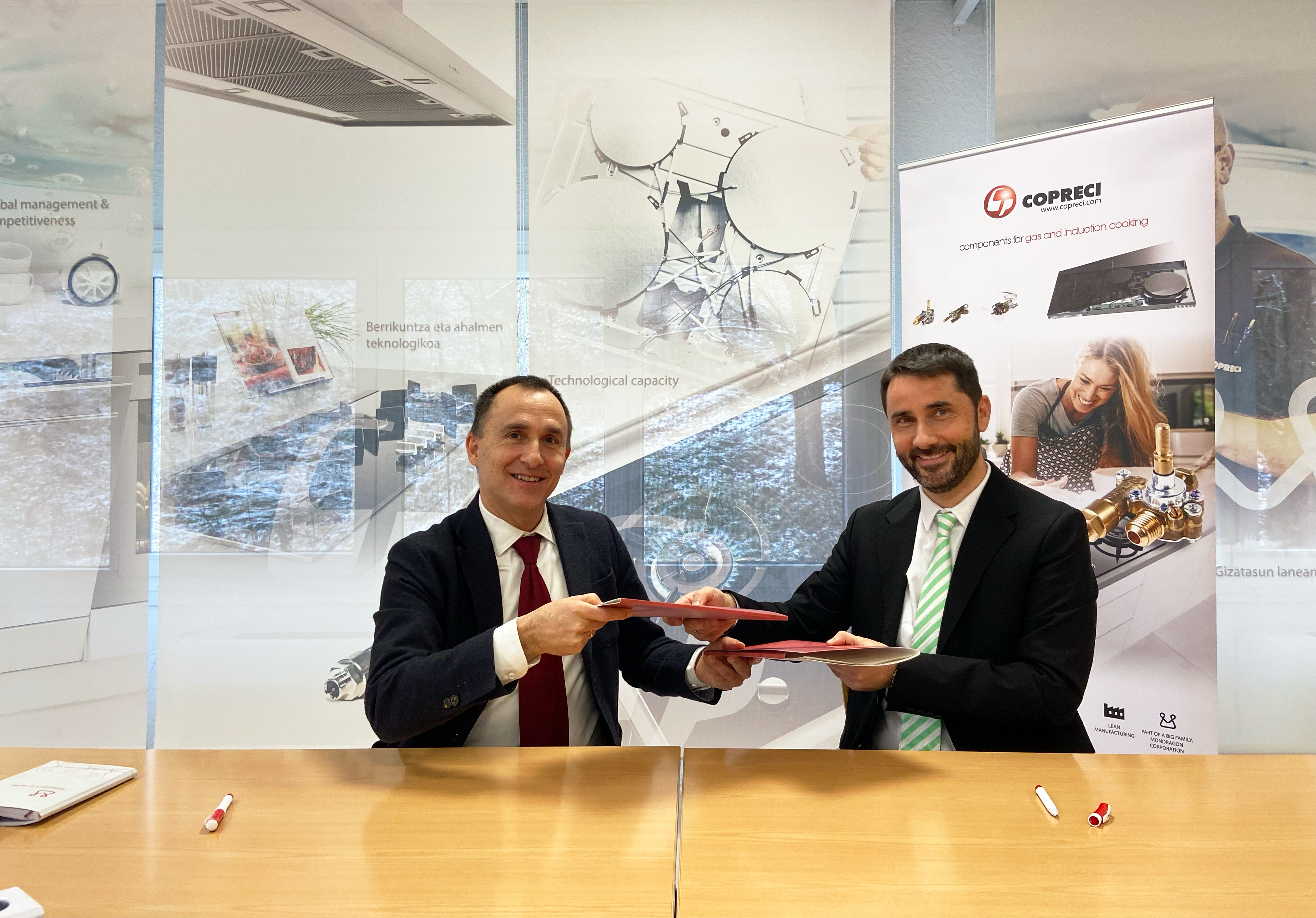 The collaboration will strengthen technology development in the areas of electromagnetics, electrical machines and power electronics.
The alliance between the two entities will enable the development of more value-added, resilient and consumer-friendly products.
The IKERLAN technology centre and the COPRECI cooperative, dedicated to the design and manufacture of components and systems for household appliances, have signed a technological collaboration agreement for the next four years that will allow the development of disruptive innovations in electronics, providing robustness, efficiency and maintainability requirements to the basic functionality. In addition, the products developed will integrate cybersecurity and artificial intelligence technologies that will result in products with greater added value, which are more resilient and user-friendly.
The agreement will enable technological development in the household appliance sector and includes the development of technology in the areas of electromagnetism, electrical machines and power electronics, for the design and integral development of small electric drives, motor control strategies, contactless charging systems for household appliances (Inductive Coupling Power Transfer) or induction heating systems for household appliances, among others.
Imanol Oleaga, managing director of COPRECI, and Ion Etxeberria, managing director of IKERLAN, accompanied by research staff from both entities, were responsible for signing the agreement at a meeting held today, 27 February, at COPRECI's facilities in Aretxabaleta.
This new alliance between COPRECI and IKERLAN strengthens the close relationship that both entities have maintained for more than 45 years. It is no coincidence that COPRECI is one of the user partner entities that backed IKERLAN in the 1970s and is a clear exponent of inter-cooperation in the industrial field that allows the knowledge of the technology centre to be transferred to the industrial field.
IKERLAN has extensive experience in the development of cutting-edge technologies in electromagnetism and power electronics, areas in which it has also participated in various European research projects such as: the UltimateGaN project (based on gallium nitride semiconductors), Reaction (based on silicon carbide semiconductors for energy technologies) or InductIce (application for de-icing aircraft wings by means of induction heating). These collaborations have led to closer relations with the main microelectronics players in Europe, including Infineon and ST Microelectronics.
Ion Etxeberria, managing director of IKERLAN, stressed that thanks to this agreement "we feel very proud to strengthen our relationship with a benchmark company in our local environment and at the same time with great international prestige such as COPRECI and to extend the collaboration between both entities beyond technology, with the purpose of facing together the new challenges that both organisations face, among which I would highlight specialisation and talent".
Imanol Oleaga, manging director of COPRECI, pointed out that "this collaboration reaffirms the strategy of alliances that we have established in our strategic plan, which reflects that we have to surround ourselves with the best to reach the market in time to offer sustainable and value-added solutions. It allows us to create a local network in the field of power electronics and digitisation, to be able to lead technologically and compete on an international scale. It strengthens our commitment to develop environmentally friendly SOLUTIONS that promote ethical and healthy consumption. The organisational trust between both companies and the work in multidisciplinary teams helps us to develop and exchange talent".
---