LOG 22700 series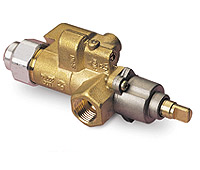 This family of valves has been designed to meet the multiple requirements of the GAS LOG HEATER sector. They are rotatory valves, with thermoelectric interlocks and certified for the international market (CSA).
Turns: 0º-90º 90º
Power: 100,000 Btu
Usage temperature: 0 -150 ºC
Max. pressure: 50 mbar
These valves have been designed to be used with the inlet parallel or perpendicular to the magnet unit position.
The valve inlet and outlet connections are suitable for any type of coupling.
The valve spindle is suitable for any type of knob.
Application
Gas log.
---