CAM 491 aluminium stamped series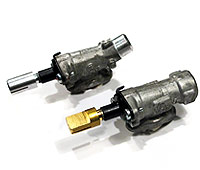 The CAM 491 gas valves series are design to be used in gas grills. There are different series depending on the final application:
49110 series - straight outlet
49117 series - 17º outlet
49120 series - 20º outlet
49140 series - 40º outlet
49150 series - 50º outlet
49170 series - 70º outlet
49180 series - 80º outlet
49190 series - 2 outlets at 90º (3 ways).
Variable flow max. for LP 35,000 BTUs and for Natural Gas 25,000 BTUs.
Counter clockwise opening valve by means of a pushing to start rotation (safety) and a mechanical limit of the spindle.
0° at 70° and 90° max. opening, with or without detent and rotation limit at the end.
Turns from 70°, 90° up to 270°, clicking possible.
Dual valve: just one system for both NG/LP gas (NG at 210° and LP at 270°).
Max. operating temperature: 150°C.
Rotation diagram according to customers needs.
Pressure: LP 11" WC and Natural Gas 7" WC (other pressures for Europe and Mexico markets).
Application
Gas grill, built in gas grills.
---