T-Zero series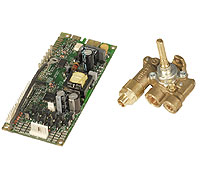 Waiting time 0 system for gas built-in hobs. The system has an electronic board, and a standard valve.
System functions
Emergency stop
Childlock function
Waiting time: 0 sec.
Safety shutdown after 6h.
Optional functions
Automatic reignition
Programable shutdown
LED indicators
Silent flame
Serial port.
Application
Free standing cooker, built-in hob.
---